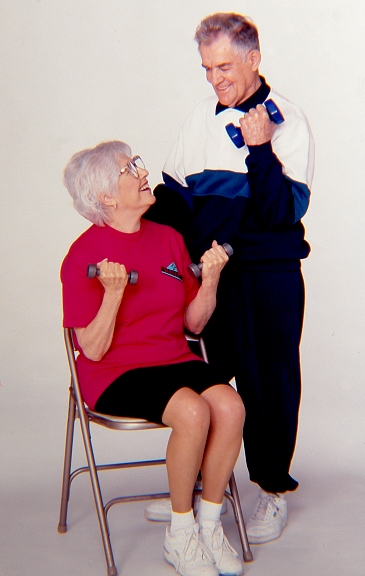 Geri-Fit® is an evidence based strength training exercise program for older adults of all senior ages and fitness levels. It's been around for nearly 20 years and was the very first senior fitness program that used dumbbell weights to help rebuild strength that's been lost through the aging process.
The Geri-Fit® program is held at senior centers, community centers, health clubs and gyms, hospitals, wellness centers, dance studios, yoga and pilates studios, recreation centers, colleges and universities, senior living communities, physical therapy clinics, and other locations that offer group exercise classes for seniors.
The Geri-Fit® exercise program requires just a set of 2-pound dumbbells (each), a non-skid chair to do the exercises in, a stretch band for the stretches used before and after the workout, and water to drink during the workout. There's no dancing or choreography to learn and there's absolutely no floorwork!  Both men and women can enroll.
The workout is considered a "progressive resistance exercise program" meaning that once the participants have built up enough strength using a set of 2-pound dumbbells, they can graduate to using heavier dumbbells weights in order to challenge themselves to become even stronger.
The Geri-Fit exercise program also incorporates stretching, balance and gait exercises in order to increase the strength of the core area. In addition to the wonderful strength gains that are accomplished with the program, seniors will also see an improvement in balance which will help to prevent falls. The program is especially beneficial to those that suffer from arthritis or chronic pain. Geri-Fit helps ease joint pain which provides better mobility and improved functional capacity.
Geri-Fit® is a Medicare Advantage approved program (under Silver&Fit®), so those that are 65 and over that have Medicare Advantage coverage through their health insurance plan can take classes for free or at a low cost (available at most locations).
Benjamin Franklin once said that "dumbbells hold a lot of wealth of good in a handful of minutes" and what he said couldn't be truer. It's never too late to get in shape. So, what are you waiting for? Pick up your weights and let's get started!
For more information on how to get the Geri-Fit® or Body Sculpting™ exercise programs offered at your health club, retirement community, senior center, yoga studio, PT clinic, or your place of employment, call us toll-free at 1-888-GERI-FIT, or click the Contact Us link on any page.

1-888-437-4348

Geri-Fit Company LLC is a certified woman-owned business
and an approved government vendor.

Geri-Fit is the proud recipient of the 2013 Best Emerging Business award by the EDC southwest CA