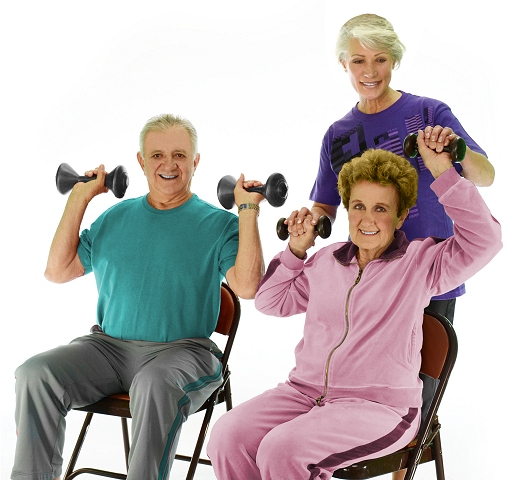 Geri-Fit® is a tier III, (highest level) evidence-based health promotion program that is recognized by the Administration on Aging (AoA) of the Administration for Community Living (ACL) which is part of the U.S. Department of Health and Human Services. This group strength training exercise program is ideal for older adults of all ages and fitness levels. Geri-Fit helps rebuild strength that's been lost through the aging process and it helps ease arthritic pain that's associated with aging bodies.
The Geri-Fit® group exercise program requires a set of light dumbbell weights, a sturdy chair, a stretch band, and water to drink during the workout. There's no dancing, choreography or floorwork and both men and women can enroll.
The workout is considered a "progressive resistance exercise program" meaning that once the participants have built up enough strength and endurance using a set of 2 or 3-pound dumbbells, they can graduate to using heavier dumbbells weights in order to become even more stronger. In essence, Geri-Fit is bodybuilding for seniors! A typical Geri-Fitter will work up to using a set of 4 or 5-pound dumbbells within a year's time. Geri-Fit is a challenging yet very safe and results driven exercise program that offers unsurpassed results. Older adults will literally turn back the hands of time each time they do the workout.
The Geri-Fit exercise program also incorporates stretching, stability and balance training as well as gait exercises. In addition to the wonderful strength gains that are accomplished with the program, older adults will also see an improvement in balance and functional capacity which will help lessen their chance of falls. The program is especially beneficial for those that are over the age of 75, however, any senior age and fitness level can participate. Just work out at your own pace!
The Geri-Fit program is held at active adult centers, senior centers, adult communities, physical therapy clinics, hospitals, wellness centers, country clubs, dance studios, community centers, yoga and pilates studios, gyms, rec centers, universities, churches, and any location that offers group exercise classes for older adults. Title IIID OAA federal funding may be available to locations who qualify.  View this chart for complete information.
Benjamin Franklin once said that "dumbbells hold a lot of wealth of good in a handful of minutes" and what he said couldn't be truer. Isn't it time to start feeling young again? Pick up your weights and let's get started!
For more information on how to get Geri-Fit® offered at your senior center, retirement community, gym/health club, physical therapy clinic, or yoga studio, call us toll-free at 1-888-GERI-FIT, or click the Contact Us link from any page on our website, or you can fill out this form if you're interested in offering classes. We have Certified Geri-Fit instructors located throughout the U.S. that can be placed at your facility immediately or we can train and certify your own instructors.

1-888-GERI-FIT (1-888-437-4348)